so i got really into ramen
Over the course of 2020's quarantine I was unemployed, mostly stuck in my apartment, and totally focused on personal projects. I ended up cooking more than I had in years, and I was really trying to make every dollar stretch, when I stumbled on this tweet by @Its_Brig.
This lil comic sparked a fire! This recipe is so tasty and easy to make and I want more people to see it!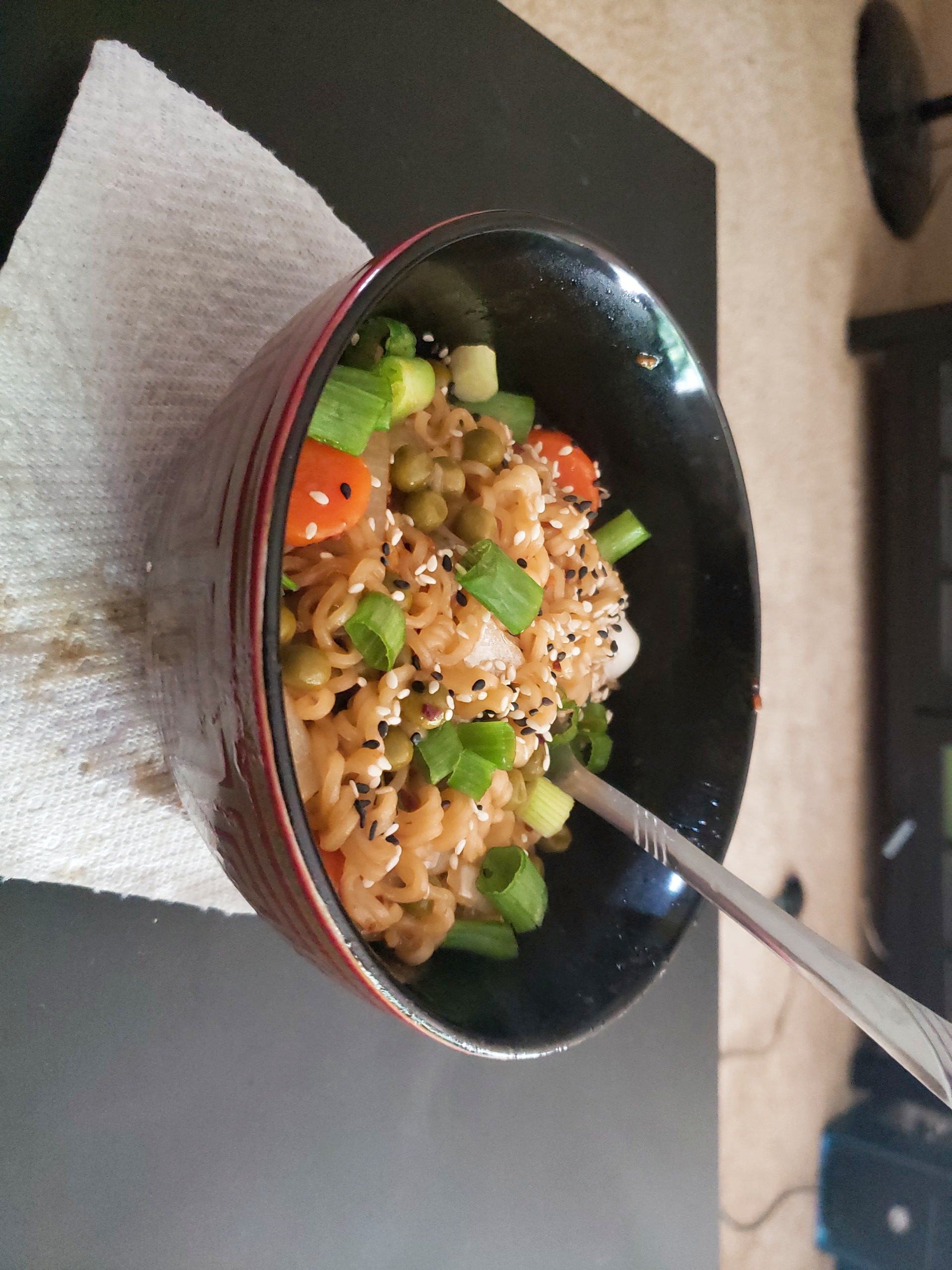 I WANNA TALK ABOUT FRIED RAMEN
Let's start by going over the standard ramen stir fry by @Its_Brig:
Fried Ramen (standard flavor)
Ingredients:
basic packet of ramen (with spice pack)
soy sauce (~2 tbsp)
sesame oil (~1 tbsp)
a "sweet"

Brown sugar, honey, and rice syrup all work well here

a "spice"

Red pepper flakes, chili oil, sriracha, sambal oelek are good options

veggies

peas, carrots, onions, green onions, mushrooms are all good!
chop 'em up beforehand!

protein

An egg is perfect! shrimp, chicken, pork, tofu can go here too

sesame seeds (optional)
cooking oil
Instructions:
mix the ramen spice pack w/ soy sauce, sesame oil, your sweet & your spice to make your custom sauce, stir well!

You want soy sauce & sesame oil in a 2:1 ratio
Everything here is to taste! The soy sauce & spice pack have a ton of salt, so if you want less, use less. Experiment and find out what ratios you like best!

boil the water in a small covered pot, cook the noodles as usual (three minutes probably)
drain the noodles
heat up a pan w/ some oil on medium
if you have meat or raw onions, cook them first
stir in egg, break it up like you're scrambling it (or not, whatever), let them cook a bit
sometimes you gotta add a little more oil here
push everything to the side and add your noodles! let them fry up for a bit and get crispy!
add the rest of your veggies (except your green onions)
pour the sauce over all of it and stir it all up
add any green onions & sesame seeds on top
I have been eating this like twice a week since I found out about it and it has been such a good & simple meal. Cooked like this, ramen is filling and has some legit nutrition, veggies, protein, plus lots of calories and carbs to keep you going! I am not a nutritionist!
okay i've eaten this one hundred times and now i'm bored of it
Nice job, join the club! Let's talk about BONUS RECIPES. There are quite a few modifications that make these noodles into a totally new flavor! These mostly involve altering your sauce ingredients, while the basic recipe stays the same.
Pad Thai Fried Ramen
Ingredients:
basic packet of ramen (with spice pack)
fish sauce (2 tbsp)
creamy peanut butter (2 tbsp)
soy sauce (1 tbsp)
lime juice (1 tsp)
brown sugar
rice vinegar
sriracha
garlic & cilantro

garlic can be fresh, minced, or just powder

peanuts
veggies

green onions, bean sprouts & bell pepper are a classic

protein

egg, shrimp, chicken, tofu (you pick!)

cooking oil
Instructions:
You make this more or less the same as before, with some small changes:
put the peanut butter in the microwave for about 30 seconds, to make it easier to stir. Then add the fish sauce, soy sauce, half of the spice pack, garlic, brown sugar, rice vinegar and lime juice, and stir it up
bell pepper should be cooked a little longer, along with the egg
add cilantro and green onions at the end, on the top of your noodles
Creamy Gochujang Fried Ramen
Ingredients:
basic packet of ramen (with spice pack)

it can be good to only use half the spice pack here

soy sauce / fish sauce (1 tbsp)
sesame oil (1 tbsp)
cream cheese (3 tbsp)
canned chopped tomato
tomato paste (1 tbsp)

tomatoes & tomato paste are optional! they will create a very juicy variation

a "sweet"
any veggies
any protein
cooking oil
Instructions:
Same as before! The only note here is: When adding the sauce, melt the cream cheese in the microwave for ~30 seconds first. This will make it easier to stir into the rest.
and that's it!
This has been my go-to lunch for the pandemic! It's simple, filling, and it makes you feel like you actually cooked a dang meal instead of scrounging for scraps. Let me know how you like it, and if you come up with any new modifications yourself! I'm still looking for new ways to mix these up (hot mustard noodles..?) so maybe there will be an update someday.

Good luck and good noodles!